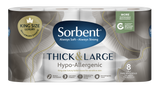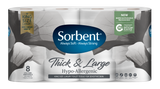 Thick & Large Hypo-Allergenic
 Sorbent Thick & Large Hypo-Allergenic  8 pure white 3 ply rolls, 210 sheets per roll.
King size luxury toilet tissue that is PH Neutral and Dermatologically tested for sensitive skin; ink, dye and fragrance free with 30% larger sheets than regular Sorbent Hypo-Allergenic toilet tissue. 
Sorbent's sustainable materials are carefully selected to give you the perfect balance of softness, thickness and a 3 ply pure white paper that looks as good as it feels on your skin.
Sorbent toilet tissue is strong in use but breaks down easily in water.